Children With Special Needs (CWSN)
The school has some children with special needs (CWSN). Mrs. Parveen Kumari is trained to teach these students with effective communication. The school staff helps them with a Positive Attitude. These students are involved in Yoga and other sports activities.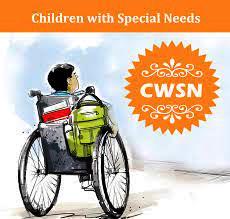 The special teaching material is available for them and a special learning corner is also available in the school. This teaching material is very helpful for their learning as
FlashCards for counting and alphabets.
Wooden Blocks for Hindi and English alphabets.
Story Books.
Playing Clay with moulds.
Colourful Beads.
Special Stationery like Notebooks, Pencils, etc.
Hour Glass.
The CWSN also participated in school functions and in school prayer assemblies. These students are the most caring part of the school. All the subject teachers help them by using the latest methods of teaching and give them special attention.